Viet Nam was the place you lived your whole life in a year. You didn't have a life before or after, that was someone else's life.
Ken Beagle was getting his discharge 3 days after I left Altus. I said my good byes and caught a ride into town where I got that dreadful limo that got me to Altus in the first place to Lawton where I caught a real bus. At Oklahoma City, I caught another bus to Stillwater to spend the weekend with Suzanne Inciardi (now Suzanne Kem of Ponca City).
It was a good couple of days and I even took some photos of her in my gear and a bikini. She is like 5' tall and the B-12 container was well below her tush! I don't remember how I got back to Oklahoma City, just a good bye kiss from Suzanne. Funny that, I have no memory of anything from that kiss to meeting Ken at the Santa Fe train Station in Oklahoma City. Hell of a kiss I guess! Anyway, it was amazing that our timing was perfect and we did meet in the Santa Fe Railway Station parking lot. We were both in uniform so we could get discount tickets. The railroads and airlines all gave GI's cut rate fares then and I think that I paid $26 for a ticket between Oklahoma City and New York City. I went to Chicago on the Santa Fe, to New York on the Pennsylvania RR and from Newark to Allenhurst on the New York and Long Branch Ry, all for $26.
On the train I met a lady who was just divorced and heading home to Cincinnati. The Oklahoma City to Chicago trip was an overnighter and we spent the night in coach talking and napping and then she informed me that when we got to Chicago she preferred Hotels to Motels! Wink wink, nudge nudge!
But it wasn't to be. At Chicago, we left the old Santa Fe RR (AT&SF actually) station and couldn't find any local accommodations and time was running out and we had to get to "Penn Station" to catch the Pennsylvania RR east. She and Ken got off at Dayton to head south, she to Cincinnati and he to Covington, just across the river. I think Ken ended up seeing her for a year or so??
I continued east to New York. At New York's Pennsylvania Station I jumped on the New York & Long Branch RR for home. All I could think of between Pittsburgh and Allenhurst was Lakewood and not Viet Nam.
High winds greeted me the first day at the DZ (June 22nd) and after a jump in 15+ they shut down for the day. We all landed at the edge of that 600 yard diameter circle. The uppers were probably 20 to 30 mph and we were backing up even as we landed. Thank God for that soft sand DZ! It was the longest spot I ever had at Lakewood.
I came back 3 days later and tried my first 5 way...... My logbook says "FIZZLED!" We also got winded out again and one of the guys said he had enough and was going to Applegarth.
New Jersey had become quite the skydiving state by then. When I started jumping, there was Asbury Park Airport DZ which was just closing (there's a new DZ just down the road from that airport now by the way), Lakewood and Tri-State which had 3 DZ's in three States. Now there was Lakewood, Tri-State (run by the famous Dan Poynter) near Flemington, Adams Air Park, a few small club DZ's and a new big one, SKYDIVING INC.
This DZ was opened by the late Steve Snyder, founder of Paraflite Inc.. He had formally run the Delaware Valley club in the 50's with Bob Spitola who ran the 1962 World Meet and then went to work for PI at Lakewood. Though it was not purpose built like Lakewood it had excellent facilities for the time, including student radios and unlike Lakewood, automatic openers (Steve was the National distributor). The only aircraft was a Cessna 205. The center was good but not up to the level of Lakewood but it did have one great advantage, it was only 15 miles from Phillie! It took a lot of Phillie business away from PI because it was closer.
Anyway, I followed the Lakewood guy to Applegarth and found a cute little DZ with a Cessna 185. The pilot was PCA/USPA future president Bill Ottley. Bill and Leon Potts had set up this little DZ and it was also closer to home than Lakewood. There was a grass airstrip and a very nice pea pit but you couldn't jump there unless you were completely off student status and had very good accuracy skills. Both sides of the small DZ had corn fields. If you landed in any of them the farmer called the police who gave you a ticket. I jumped there till July the 9th when I went back to Lakewood for a weekday jump.
At Applegarth the winds were better all the time and the jumping was a third cheaper. That was important for a GI then making $106 a month. After all the freebies at Ft Sill, Lakewood hit the pocket hard! My Applegarth jumps there were all between 7500 and 9500 feet and the winds and clouds could not have been more cooperative. My accuracy with the Yellow Hustler averaged 30 feet/9 meters. Not good but enough to keep the cornfield cops at bay.
Probably my best memory of the place was jumping with Hal Evans. Hal was a true gentleman of the sport and a true rebel even though he served on the PCA/USPA board for years after. Unlike the rest of us who had OD, Air Force gray/green gear or dyed gear, Hal had the first commercial gear (Pioneer) in color. He was dressed from head to toe in white suit, helmet, French jump boots and all white harness and containers! I may be wrong but I think he had a white PC too! (Anyone out there remember???)
Anyway, we were suited up for a load and bullshitting about gear and who was jumping what and I said I'd never jumped a Paracommander. Hal suddenly pulled his gear off, pushed it at me and said "here, switch". I've never forgotten that. That was the 4th of July weekend (and I jumped both days).
I started back at Lakewood 5 days later when the winds got better, 12-15 mph except for the first morning at zero winds before they came up. I spent my last weekend (July 9-10) there doing heavy REL (for then it was heavy) with Jim Kalergas, Linda Chapman, Bill Hammell (a big name then from the UK, working at PI for the summer) and others. I spotted the Norseman for the first time and got more REL that day than I had had to date total! I was doing real hook ups with real civilians, California style!
The next morning I was going to Allenhurst Station to get my tickets to San Francisco (and Hamilton AFB for combat training) and found that the Railroads were on strike! Calls to the airlines found the flights booked solid for a month and filling more. I had to cut my leave short and made my way over to McGuire AFB to catch a hop to the coast. The place was packed with stranded GI's especially Army types from nearby Ft. Dix. I was probably stupid for not going over to Tinker AFB in Oklahoma City when I left Altus to try and catch a hop to McGuire AFB or Dover AFB but I had no idea how to go about successfully getting on a hop. When I graduated from Tech-school myself and one of my classmates were on a hop to New Jersey in a C-120/T-29 (Convaire 440) but we bumped by two moron majors who wanted our seats to claim flight time for flight pay. They never went near the cockpit! This happened to use twice in two days so we headed down to Union Station and caught the Zephyr east.
You were not allowed to take a military hop in the direction you were given travel pay to but they didn't care in this instance. I was legal going east and as far west was maybe Denver but like I said, they forgot a lot of the usually spit and polish and just said do what you have to. They activated all


the Reserve Units flying transports and I found myself on a C-124 (Click on the photo to enlarge it) without my duffle bag with my parachutes! I was only allowed one duffle bag and I had to send the rig whole baggage.
The Globemaster was a funny plane with 4 radial engines. It was also tall enough inside to put in a 3nd deck and the place was 3 stories inside and


full of GI's. The duffle bags were in the center and we we lined up along the sides on canvas seats. On the upper level there was a double row in the center too. Most of the dudes on board were "jar-heads" plus some "ground pounders" and there were only a few of us "Airedales" on board.
After a box lunch I just decided this was too much and I noticed that there was a canvas tarp strung over a jeep and it was taught. Instant hammock! The Marines looked really shocked. They were mostly just out of boot camp heading for the Nam and I had 2 more stripes than most of them. This was god-status then, plus this was an Air Force plane, I was in the Air Force so it must be mine and I know what I'm doing.
I made it to Travis AFB well rested and was met by my high school mate, Gary Havens, who was stationed at Hamilton. I was sent to Hamilton AFB first for combat training and then final processing. Every place I went the shot card came out. When I left Altus, I got all my shots and when I got to Hamilton I got more. All this was very frustrating indeed. The term ALL seems to have had a different meaning each place I went.
Originally, there was not only a train to Hamilton, it went right through the base! You took a train to Sacramento and transferred to the North Western Pacific RR. It would come up to the base fence from the north where the engineer opened the gate with a key to the lock and the Conductor closed it again when the train was fully inside. They did the same thing on the south end of the base to get out and down to San Rafael, Sausilito and to San Francisco via ferry. GI's usually just jumped on off the train while it was stopped inside the base. One problem... passenger service on the NWP RR was discontinued the year before!
Travis AFB was 90 minutes from Hamilton AFB and if Gary had not met me I don't know how I would have gotten there. In fact, I have to admit that I have no idea how any of the guys got from Sacramento or San Francisco to Hamilton AFB?
I left two weeks later after my combat training school and again to Travis AFB for embarkation to Viet Nam but they screwed up again! The plane landed at Anchorage, Alaska and that was it! Poor baby, being stranded in a nice Alaskan summer AND the clock was ticking. It was all counted as Viet Nam time! Two days later I made it to Yakoda AB Japan and spent 3 days there. I finally made it to Ton Son Nhute 5 days late! I bunked into the CBPO where I got ALL MY SHOTS again and settled in for the night only to get a "Welcome to Viet Nam" greeting from Uncle Charles in the form of 19 81mm mortar rounds. We know they were 81's because one of them actually landed in a toilet and didn't go off!
My gear arrived 3 months later and I found the parachute club on the Viet Army side of the base. It was at the Vietnamese 2nd Airborne HQ and called the "VIETNAM PARACHUTE CLUB NHAY DU". I did some training for them and a little rigging while we were having DZ problems. Seems that "Charles" had made jumping difficult at the old DZ and we finally started to use the military DZ at AP DONG. (CLICK to see map)
AP DONG was used by the Vietnamese for airborne training and there was a triangular fort there for protection. We were getting in a good amount of jumps from 8000 to 10,000' from a Vietnamese Air Force H-34 (click on photo). Getting the aircraft and for free at that time was easy but we had to pay the pilots with a bottle of Johnny Walker or Jack Daniel's each. I didn't drink, so my booze ration usually bought the bottles once a month. I paid an outrageous US$1.35 per "5th"!
My first trip there was uneventful but that night wasn't. It was Sunday, Dec. 4th 1966 and we got back just before curfew. Within a half an hour we were hit hard by the VC. US Army and Air Force Military Police fought off the VC all night. The Army took light causalities but the Air Police (377th Security Police Squadron) lost 3 airmen and a German Shepherd plus wounded. We were still at the skydiving club when they hit. We made it to a nearby secure spot on the Viet side of the Base and one of the other jumpers, an Army type, got me a .30 cal M-14 with 3-9X "ART" scope on it. I was to take out anything that moved towards us out to 600 yards. Ammo was short, less that 500 rounds of 7.62x51mm and 2000 rounds of 5.56mm, so it had to be one shot-one kill. I had only 60 rounds of "Match Ammo" which the scope was sighted in for. While on the Altus AFB Rifle Team, we fired for score at man silhouette targets out to 1000 yards with open sights, so 600 yards with a scope was nothing as long as I kept my head. We hold up in the sand bagged strong point till dawn and I never fired a shot. The wait was maddening, every time the wind blew and the grass or trees moved I thought it was Charles. I scanned and scanned, zooming the scope in and out, 3 power to 9 power and back looking for something real. I ended up wishing it was, just to get the wait over with. To my right the Army chopper pad was busy, machines taking off and landing for hours, the noise would have covered up the sounds of someone sneaking up on us which made it worse.
Probably what impressed me the most that night was the "firefly" pilots and ground crews. These guys took off and landed under fire and the ramp rats refueled and reloaded them under the same hazard. It was not until they were sure this was just an attack on Ton Son Nhute did the air crews start to use Ben Hoa AB to refuel and reload. They kept the skies lit most of the night and I've always had a soft spot in my heart for the C-123 ever since. I would like to jump one sometime but they are in heavy demand in the used market as a replacement workhorse for the the DC-3/C-47 around the world and will probably not see a DZ for years to come.
When I went to work the next day I was sent out to photography the VC dead. Most were kids 14 to 18 tops plus our two Base barbers! The kids had tons of drugs in their system and the raw stuff on them. Some charged with just grenades. We were hit again on the night of the 5th and I made sure I was doing something else when someone had to go do the ID photos. I don't think I'm alone about my feelings on those nights. At work on the second night I had very mixed and bad feelings. One side of me felt "better you than me" and I was at least safe for a while hold up where we were at work but the other side felt guilty for not going to the perimeter to help even though they wouldn't have let me if I tried, after all I was a non-combatant. This was pure political shit and over half the guys in the unit had illegal weapons.
The skydiving from then on was good and on one jump (Christmas Day 1966), Maj. Nook, CO of the 2nd Airborne, gave me my Vietnamese Airborne wings in freefall (I qualified in Dec 66. It was very strange then to have someone wearing foreign wings and not the Ft Bragg wings first. I still have them and I still ware them in parades.) The ground at AP DONG was like concrete and like Ft Sill, you PLF'ed or suffered!

Spotting was an interesting experience. It was rare that we had anyone with us that could speak Vietnamese to relay the adjustments to the pilots, much less spot himself. The cockpit was high above the cabin and only the crews legs were visible to the jumpers. (See photo). Spotting was usually a hand signal from myself to someone who could reach their legs. Each tap was a degree turn and something like "3 Left!" was three taps on the pilot's left leg or ankle. There was no cut and no need for one since we were going so slow. Some people think a chopper can hover over the spot, which it can, but at 10,000 feet it was easier just to move forward at 20 or 30mph. We used to joke.... "2 right!, 3 left! 4 back!"
Gear was strange, mostly surplus military. I never saw any Trackers or LoPo's and only one high performance type canopy. It belonged to a civilian contractor who worked for "RMK/BRJ Construction" which was owned by President Johnson. He had a CrossBow in a conventional Security system (Security always made a conventional and pig version of everything they ever did except the Tracker which was pre-pig era). It was the first non-round canopy in Viet Nam (PC's and CrossBows were egg shaped) and he jumped it w/o any training. I don't know how many jumps he had on it but we saw him head into the trees and hook a low radical turn. He clobbered the trunk of a tree in the turn. We lost the chopper for a couple of hours as it took him to the 3rd field hospital with serious injuries. We adjourned to the triangular fort, had field rations and told lies and other assorted jump stories. My most intense memory of the day was that I would rather bounce than eat that stuff again! The ration also had a condom and toilet paper. When I asked what we were supposed to do with these out here one Army dude said you shit in the rubber and wipe your ass with the Ration instruction sheet, it was softer than the TP!
At least we had groupies for a change. They were too commercial for my tastes and were trying to sell you everything from coca cola to "Number One Girl". Right! Like I'm going to drop my pants for a 500p ($4.20) short time and miss a free load to 10,000!! There are priorities in life you know.
We also wondered if any were VC. Charles was very good at pre-mission recon. Posing as civilians they would carefully check out a target for weeks before doing anything. At the DZ they could roam freely as long as they stayed away from the jump ship and our gear.
The only pig in Nam (I ever saw), was home made (photo coming soon). The owner actually made it from a B-12 harness and container and an Air Force 28' chest pack (all sage green). He had a 28' reserve (old C-9) and a 32' Navy HiPo with a 7-TU in it. Big fella, almost 6'4" and can you imagine what that rig weighed!!
He didn't have to TSO it because Viet Nam didn't require it. In fact our club set the rules for the whole country. There was a few jumpers in the Da Nang area but for the most part we were it. Our club trained the Viet Nam National Team and I was the style coach and assistant accuracy coach. We couldn't use any real accuracy techniques because of the rock hard DZ! The DZ also had shell holes in it from the odd mortar attack when we were jumping.
It happened twice while I was there, the first time it was 3 rounds and no way near us but the second time the rounds started to fall while I was in freefall. I seriously wondered if I should open at all and just go in and get it over with the easy way. Then I wondered about opening low to minimize ground fire under canopy but the attack was all over by 2500'. Its silly to think they were after us and the chopper was in the air at the time so its a pretty good guess the target was the fort or just harassment in general. I came to my senses and dumped at 2500' and it was all over by the time we hit the ground.

We were pretty stupid sometimes. We met at 7am every Sunday and left for either the heliport or in convoy to the DZ. We drew lots to see who flew in for the first jump and flew back. Everyone usually arrived by 9am at AP DONG. We made ourselves a target on the DZ, and coming and going, especially on a regular basis.
Luck ran out once for me and we were hit on the way home, 10 minutes south of Tan An. They were in a clump of jungle on the left side of the road and myself and 2 others were pinned down flat on the floor in the back of a 6x6. We usually had a 6x6 with gear, a 4x4 and 3 jeeps. Everyone was armed and there was an old WW2 Browning .30 cal. on the 4x4.
None of us in the truck ever got off a shot and they must have been close because the driver set off two clamors. These were directional charges attached all down the sides of the 6x6. Two went off and actually put a pucker in the metal plates of the truck sides! Scared the crap out of me! It was like being on the inside of a bell! The whole thing lasted less than 10 minutes and I found out that when they pulled out, those of us pinned down in the truck were the only ones with any ammo left and we had our full load. Everyone else was down to a magazine or less. Two guys were out and using pistols, one was a Colt .45 he smuggled in from the States!
It was also strange to jump armed! I carried an Australian made 9mm Browning HiPower most of the time or a Swedish M-45 9mm sub-machine gun I got on the black market. I almost used it once but glad I didn't. High winds suddenly blew us all into the jungle canopy and I was tree'd, but my feet were only two foot from the ground. In fact I was bouncing on and off the ground. I heard people running through the jungle and I pulled the M-45 out of my harness, put in the magazine and locked & loaded. Just as I finished 4 kids came out of the bush 15 feet in front of me and I almost shot them! For a pack of cigarettes (I didn't smoke but carried them as trading material) they pulled the yellow Hustler out of the tree. The local kids did a lot of chute shagging and lugging for us and had learned to field pack a sport rig. I used a lot of my cigarette ration (I didn't smoke) for such services and barter like this. I paid two of the kids 5 butts each to get my rig out of the tree without hurting it but it had a couple of small tears/holes in it. Luckily I had some yellow ripstop tape with me.
Another memorable jump was supposed to be a 3-man roll out from the

chopper. The H-34 door is quite large and you can get 3 abreast tightly in the door. Three of us rolled out in an arm lock (I was in the middle) and suddenly I felt a violent tug on my left arm and there was only two of us. I looked up and saw the third man hanging from the machine gun mount! His jumpsuit snagged on it and he was hanging by his leg! We did a boring 2 man from 10,000! He was cut from the mount by another jumper and fell free for a lonely jump. Piss me off, he got closer to the disc than we did!
Remember that world record I mentioned? We made that on New Years day 1967. We tied to get out there real early for a change to avoid the days heat (and higher decent rate) and the first load flew in with the chopper just after first light. The rest of the club drove to the DZ (about an hour). Myself and John Kennedy (C-3048) made the first jump at around dawn. The international date line was to the east of us and when I read in the PARACHUTIST who made the first jump of the year anywhere on the planet I realized we were in the air first and we put in for the record. Like I said, we never intended to set a record, it just happened. The next year the boys from Clark AFB near Manilla took it but jumping at 12:01am! I can imagine the madness that occurred at DZ's in the Pacific at 12:01am 2000!!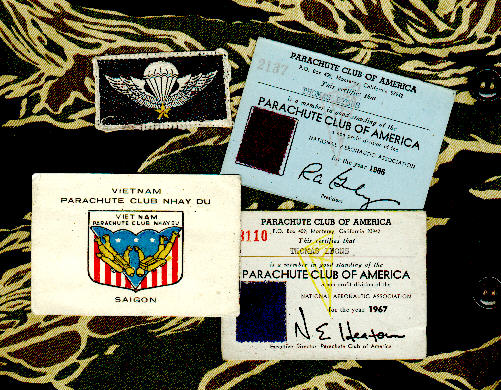 I still have the TIGER-SUIT that I was issued for my recon work.
My jumping didn't go un-noticed though. I was assigned to a recon Unit called the 13th RTS. We supported the recon efforts for the Commander 7th Air Force, a jerk named General Moemyer. I also spent some TDY time with the 600 Photo Sqd..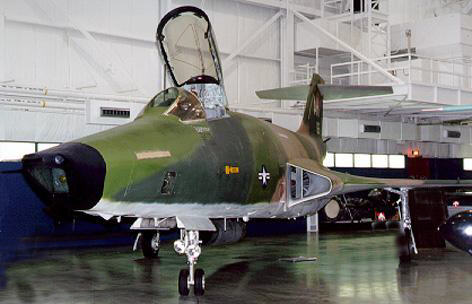 RF-101A
One day the CO asked me if I'd had any HALO training and I said no. Then asked me if I'd do some ground recon dropped in by parachute? Shit! Free jumps! YES SIR! We usually jumped at dawn from a C-130 at 10,000 to 20,000 feet and landed silently, got the photos and were pulled out by HUEY. It was me, a sapper and an intel officer. I made a couple of jumps right off and the third one we hit awful uppers and we were blown into Cambodia.
We field packed the gear (you left nothing for them to find or use) and worked our way to the river we saw to our left when landing. Much to my surprise we spotted a US Navy RPB heading our way and I yelled out "HEY BUDDY!"........ WRONG!!!! To make a long story short, two M-60's and a .50 cal Browning proceeded to entertain us and I had the opportunity to study the local vegetation and insect life on the ground from about an inch and a half away! You know the routine, who won the world series, is Betty Boop Gay, does LBJ suck, what's a short time in Saigon cost? etc etc etc, and they told one of us to swim out for ID . Guess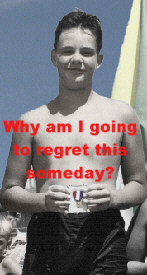 who was the swimming champion in grammar school and got wet? That's OK, I didn't have to lug the gear on board. When I asked what they were doing in Cambodia they said they were on R&R doing a little fishing and got lost! Right! Who cared, the "Brown Navy" saved our butts. They got us back to a ship anchored in the mouth of the Delta which had several choppers on it and one got us home.
Probably the one incident that made me understand why GI underwear is issued in brown was Jan. 7, 1967.... OPERATION CEDAR FALLS! At 4:30am (first light) myself and a two man team from the 173rd Brigade (US Army CLICK for short history of the 173rd) rolled out of a Caribou and landed in what's known as the Iron Triangle. My 22nd birthday was 2 days before and I wondered about making it to 23.
For days before the Air Force was flying over the area but making it look like it was just on the route for someplace else. There were 3 transports in this flight, each had a group like mine. One had a photography from the Army Photo facility at Long Bin and the other an Air Force dude from the 600 Photo Sqd.. He was actually a real "Blue Belt" and had gone through Bragg. The largest airborne operation of the Viet Nam War started 3 hours later!
The Iron Triangle (click for map) was a massive commie fortified area north west of Saigon on the Saigon River and not that far from AP DONG. It also contain the VC's MR 4 Headquarters. The operation included the 1st and 25th Infantry Divisions, 173rd Airborne Bde., 11th Armoured Cavalry, and ARVN airborne and ground units.
The Army types job was to scout the DZ/LZ and when the drop was made, I was to burn as much film as possible for the record. I gotta say that it was one hell of a sight. Never seen so many canopies in the sky, thousands of them. I occasionally see my still work in books on Viet Nam and I'm never credited (US Air Force Photo) but I have never seen any of my 16mm film or photos I shot that day. Everything I shot that day went to the Army photo lab at Long Bin and I never saw any of it.
Anyway, after landing and stuffing our rigs away, we really hadn't run into any one, a couple of guards by them selves and they passed us easily. I got the shit scared out of me during the second wave drop when a quad of Russian 12.7mm's opened up about 25 yards to our left. Charlie never saw us! Talk about loud guns! We dug in deep and didn't move until they pulled back and disappeared into the tunnels. Talk about scared shitless!
What's frustrating is that there was relatively little opposition from Charles during Cedar Falls but we had to be right next to some that was. Resistance was mostly from individuals or small groups since we had caught them with their pants down.
After the initial drop and HUEY air assault, ground troops moved into the northern end of the triangle from the Ben Cat area moving down the open areas. At the same time 6 battalions of Army were heli-lifted to form a wall across the top of the triangle. Other ground units moved in from the south west thru rice paddies and rubber plantations to wall up that side of the triangle between Ben Suc and Ben Co using the main highway and the Saigon River as the main obstruction. There were no major VC or NVA units inside the triangle when Operation Cedar Falls started, either by coincidence or they knew it was coming and got out in time. Three groups of unknown numbers tried a break out, one went north thru the thick and ran into the north wall while two others went south and managed to slip out thru a thick jungle area towards the Tinh River. 30,000 American and Vietnamese troops took part in the operation including a battalion commander named General Alexander Haig! The last contingent were Army Engineers who spent weeks destroying tunnels and the like. The operation was considered a success and denied the communists use of the area for a couple of years. What activity was there was harassed by the fire bases at Ben Suc and Ben Cat. The VC body count was 720.
Our jobs done, we were helio-lifted out 2 hours after the first drop and I was back at Ton Son Nhute in time for my regular B-Shift at 4pm. I think I slept on my feet half the shift. My boss, Sgt. Booth wasn't working that night so I got away with it.
During my time in Viet Nam I also lost a lot of my own photos shot with my own cameras and money. Someone in the outfit was selling government photos to the media in Saigon. Too many (not all) of these media guys were dodging the draft by being there as so called correspondents but all they were doing was spending their days drinking at the Continental Hotel and their nights balling their "moose" (or is that "Meese"? It's actually spelled Muse). They were buying information and photos from military guys in our outfit and a classified photo got out. They hit us at 1am for an open locker and took everyone's photos, negatives and enemy weapons. I lost all the photos of me in Viet Nam except for some sent home before the raid and some taken afterwards. I learned real quick to put a New Jersey return address on my film when it went to the processing labs (slides) rather than back to me in Viet Nam. All my black and white was processed at the base photo club and as soon as they was dry, they was in an envelope and in the mail to New Jersey. I never printed anything till I got back. (When my house hold goods arrive from the States, I'll post what I do have left including a photo of that homemade pig I mentioned.)
When I was transferred to the 6470th Recon, the non-sport jumps stopped and the "First Shirt" grounded me and made me send my sport gear home. That idiot Moemyer forbad skydiving even though his superior officer authorized it! This is the same General that had the Air Police give out tickets if your boots weren't spit shined, or you didn't salute officers etc. etc. The officers loved that! Lets tell every sniper for 1000 yards that your an officer! I made my last jump in Viet Nam on Jan 24th, 1967.
In 1960 the military services authorized skydiving for all military personal, realizing that we could be drawn on as a talent pool with exceptional (for the day) aerial experience. The original HALO courses at Ft. Bragg were conducted under contract by Lew Sanborn (D-1) and Jascques Istel who founded Parachutes incorporated after the Army contract was completed. They (PI) in turn, trained me at their Lakewood facility when they went all sport parachuting. We were a group that not only could jump from 20,000 feet, we wanted to every weekend!
US Army General Stillwell was a staunch supporter of skydiving even in Viet Nam when he was commander of US Forces in Viet Nam. He was straight forward, competent and didn't kiss any asses. He died under suspicious circumstances after questioning U.S. involvement in South East Asia. He was replaced by General Westmoreland who did not recend Gen. Stillwell's skydiving policy. I argued that point and lost but strangely enough I was put in command of a small 5 man detachment (was an NCO by that time) that worked within the 6470th RTS's photo intelligence and recon efforts. I guess I got kicked upstairs and made the B shift honcho of this little group and I spent the next 5 months leading a more quiet life than I had before. (Notice I said more quiet... like Viet Nam was quiet??) We had a large brand new two story building in the 7th Air Force HQ compound with no windows and only two doors. The roof was also covered with some- thing (probably sand bags) that would absorb all sizes of mortar rounds and some light artillery. The most dangerous part of working there was the spam sandwiches from the BX "roach coach" than rolled by the door occasionally. This drove the guards at the door nuts because when someone yelled out the coach was out front we all ran out and totally ignored security proceedures! Then we all pushed our way back in, again ignoring proceedure. It took them a while but what they eventually did was to let us all out and back in but to make sure no one melted into the pack of people by a mini-patrol on the other side of the coach.
The rest of the base and our barracks area was another story as far as safety is concerned. BUT! the good part of it was that my gear was safe and sound back in the States! :-)
Being grounded had a funny effect on me. I didn't feel in control and damn sure didn't like the idea of someone else being responsible for my safety. Made me real nervous sometimes. The Armed Forces Radio (and yes I remember the GOOD MORNING VIET NAM GUY) was constantly asking for volunteers to fly gunner on med-evac choppers on their days off and the 7th AF people OK'ed that but I won't go into it since it doesn't involve jumping, but I will say that after 5 weeks I quit. I realized I was seriously "SHORT" with about 100 days left and was being a total jackass doing the things I was doing. If I kept my nose clean and inside the fence I could probably make it home. A lot of guys started to get careless when they were short and copped it from Charlie for being stupid. You had the feeling that you made it for 10-11 months and were invincible.
One very odd part of my jumping experience in Viet Nam is that I have blocked out some of my memories including jumping. I can't for the life of me remember any of the people except for Matt Farmer and an Army Caribou crew chief by the name of McKay. He had about 80 jumps with us at the time and when he was flying he used to lower the ramp and sit on the edge with his rig on! I can dig on that because I developed the habit of sitting in an open door (above 2000') myself and rather enjoy it especially in hot weather.
Most of my logged sport jumps are signed by a guy named J. Kennedy (C-3048) who might have been the club CSO or president. The rest are illegible but have the numbers B-4927, C-151 (might be Wally Moms) and C-2107. I don't honestly know if we had any D-license jumpers in the club at all?
I have no idea what ever happened to the club but I do know that enemy action got a lot more intense after I left.